Under the OrWind brand, OASYS R&E has developed a package of solutions for fire protection in wind turbines.
They have all been designed from scratch by studying and considering the factors and specific technical characteristics at play inside a wind turbine: large operational temperature ranges, presence of moisture and dust, strong wind currents, small insulated spaces, etc. OrWind can also adapt to the wide variety of existing turbine models and your particular requirements in each case, such as factors conditioning or limiting the validity and suitability of just one final solution.
OrWind is a modular protection system for wind turbines offering various protection solutions. As they complement each other and various combinations are possible, we can provide the right configuration for your particular turbine model and the protection level and scope you require: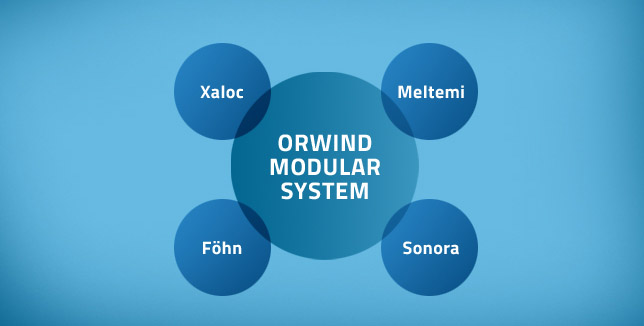 OrWind FÖHN
Automatic suppression system for eléctrica I cabinets.
With this system, specifically designed to protect one of the riskiest components in a wind turbine, specific protection becomes overall protection for the whole wind turbine.
OrWind MELTEMI
Patented passive system for firé protection and sound insulation.
As It has a simple design, is easy to assemble and maintain and, above al I, combines materials with excellent thermal and acoustic properties, this system is a great solution to prevent against fire in wind turbines and reduce noise transmission levéis.
OrWind SONORA
Very early warning fire-detection system.
As a result of its HSLD detection technology, it intervenes before a fire starts by transmitting warning signáis and stopping the turbine, thus preventing the conditions in which a fire might occur.
OrWind XALOC
Clean agent automatic suppression system for confined spaces.
Having a Xaloc system with clean agent G1 will not only provide you with the highest level of efficacy in fire protection in wind turbines, but also ensure the safety of people and the surrounding environment.